Online Public Consultation: 
Colchester Hospital, Turner Road, Colchester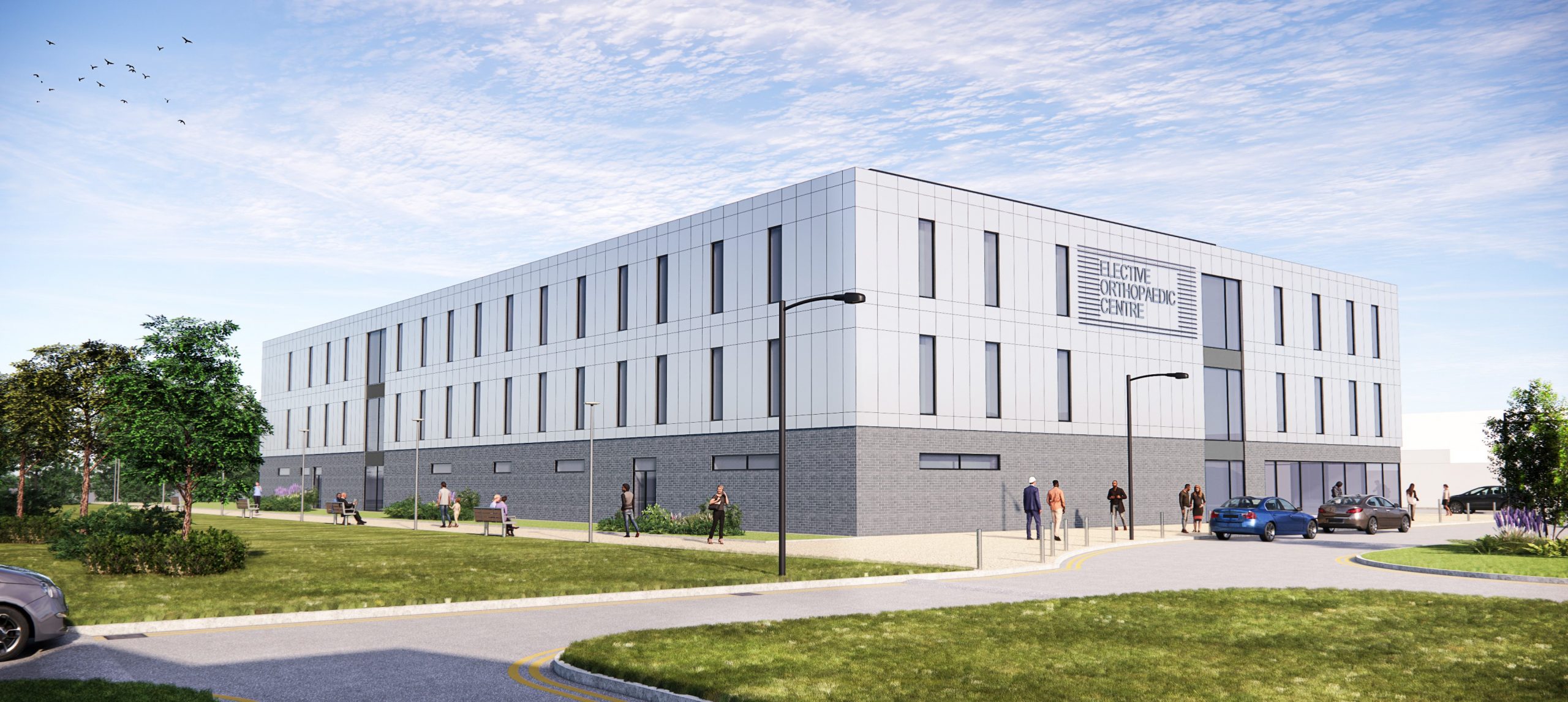 Welcome and thank you for reviewing our online exhibition
We are pleased to have the opportunity to share with you our development proposals at Colchester Hospital, Turner Road, Colchester.
East Suffolk and North Essex NHS Foundation Trust (ESNEFT) are preparing two planning applications for a proposed Elective Orthopaedic Centre and Northern Approach Road access at Colchester Hospital, Turner Road. The public is invited to comment on the development proposals in a consultation between 1 March and 12 March 2021.
Scheme Proposals
The detailed elements of the works involved with the Elective Orthopaedic Centre comprise:
Demolition of the Mary Barron building, Cardiac Catheterisation Unit and administrative block, part‐demolition of the Elmstead Day Unit (Endoscopy Unit only)




      and removal of staff car park F

Erection of a three‐storey building and roof top plant to serve as an Elective Orthopaedic Centre, that will comprise six theatres and up to 72 beds and             cover an area of approximately 2,800sqm footprint

Creation of a new loop road to allow for ambulance bays and a patient drop-off area

Creation of a new pedestrian footway

Soft landscaping and ancillary works.
 The detailed elements of the works involved with the Northern Approach Road access comprise: 
Creation of a new vehicular, cycle and pedestrian access point into Colchester Hospital via Northern Approach to the west

Inclusion of a new signal‐controlled junction to facilitate the access

Creation of a bus gate at the existing junction with Turner Road

Amendments to the entry and exit arrangement for the main visitor car park to allow access from the south via Turner Road and Northern Approach, and an




      exit to the north via Turner Road only

Removal and re‐provision of landscaping to the north and south of the proposed access point, to allow for the widening of Northern Approach to enable                      vehicles to enter and exit the site and provide for adequate visibility splays.
The Elective Orthopaedic Centre represents a significant healthcare investment, which will make a valuable contribution and improvement to the care provided at Colchester Hospital to north Essex and Suffolk catchment area. The building will be of a high quality, contemporary design that will have a positive visual impact on this area of the site, supplemented with additional soft landscaping, while the size and scale is in‐keeping with existing buildings across the western part of the Hospital site.
 The new Northern Approach Road access point is proposed to be located to the south‐western corner of the site, and will create a clearer, more legible and direct access for staff, patients and visitors from the strategic network in line with other local hospitals in Essex, and will provide improved highway safety and environmental benefits to residents residing along Turner Road, as well as encouraging improved sustainable travel behaviours.
How to comment on the proposals
Your views are very important to help us develop our proposals.  Please use the SurveyMonkey online comments form here
Alternatively email your response direct to Lawson Planning Partnership Ltd, contact: Sam Hazell at consultation@lppartnership.co.uk
The consultation period will run from Monday 1 March 2021 until 5.00pm on Friday 12 March 2021.
Please note:  Due to the coronavirus pandemic, Lawson Planning Partnership Ltd and ESNEFT have decided to run this consultation remotely, rather than hold a public display and event.  All information is available online, however should you wish to discuss the proposals in more detail, we would be more than happy to speak with you via email.